News
Displaying all 8 news entries
07/02/2017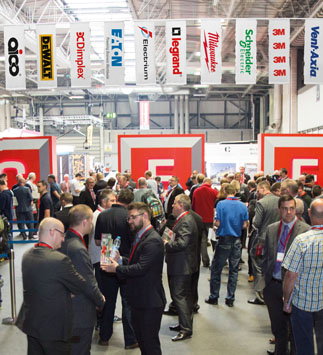 CEF LIVE returns to Birmingham's NEC Arena on Thursday and Friday, June 8 and 9, 2017. Hosted by CEF, a UK supplier of electrical products and services, this year's event runs will feature industry brands, on-the-day offers and details about upcoming industry changes.
Ahead of the release of The 18th Edition of the IET Wiring Regulations later this year, attendees will gain a glimpse of how the new legislation could affect the way they work when they come into force and hear from industry figures on how to put the changes into practice. There will also be seminar sessions on the trends and technologies, including a talk from NICEIC's senior marketing and events engineer, Tony Cable. CEF LIVE will be the last chance to see Tony speak in a professional capacity as he plans to retire later in the year.
Some 45 electrical brands will be at the show with many offering on-the-day deals. Those signed up so far include DeWALT, Milwaukee, Klein Tools, Schneider, Eaton, 3M and Aico, Nest and Hive.
In a new development for 2017, the second day of CEF LIVE will focus on young professionals, with a host of activities designed for those entering the trade. Supportive workshops and skills challenges will be available for apprentices, offering guidance on how to get ahead in the electrical industry.
Chris Ashworth, General Manager, CEF said: "Our first CEF LIVE in 2015 was an incredible success and attracted a fantastic turnout. As a result of customer feedback, we can promise that this year's event is set to be even bigger and better. Keeping up-to-date with the latest trends in our sector, as well as being aware of key details around soon to be released regulations, is vitally important for professionals working across the electrical sector. With this in mind, CEF LIVE provides the perfect opportunity to find out more about the widely anticipated 18th Edition and pick up some of the latest products at unbeatable prices."
Visit ceflive.co.uk.
13/09/2016
CEF continues to demonstrate its commitment to training and development with the opening of a brand new Training Academy in Redditch
The Academy is the first of its kind for CEF and is further proof that a commitment to training is very high on the agenda. Known for its specialist expertise, the dedicated environment underlines CEF's resolution to continue developing its branch and support team's knowledge and skills.
Chris Ashworth, CEF General Manager Hinckley Region said: "We are excited to be opening the doors to our new Training Academy. Training is critical to our industry's future prosperity and it is something which we take very seriously at CEF. Our new Academy will ensure that we can continue to provide a full programme of training for our staff in a dedicated learning environment."
Amongst the first people to take advantage of the new Academy will be the latest recruits to CEF's Aspire Commercial Graduate Programme which is designed to turn talented individuals into future business leaders. The award-winning, two-year Programme encompasses all aspects of the electrical industry and provides an insight into each and every role within the CEF business.
Chris continues: "The skills that young people on our Aspire Programme gain will last them a lifetime and will undoubtedly help them to move the industry forward over the coming years. Some have already progressed within the business to new roles, including that of Branch Manager. These young people are the future of the industry and our dedicated Training Academy will ensure that we can nurture this talent."
The Training Academy will also be the first point of call for CEF new recruits who will be given the best possible start to their career, with continuous and structured training being a key feature of their on-boarding programme. Chris concludes: "CEF is renowned for the training which it provides to staff at all levels and our culture is such that every senior manager is promoted from within. The new Training Academy will enable us to develop our teams and continue to offer career progression at every level within the business."
08/06/2016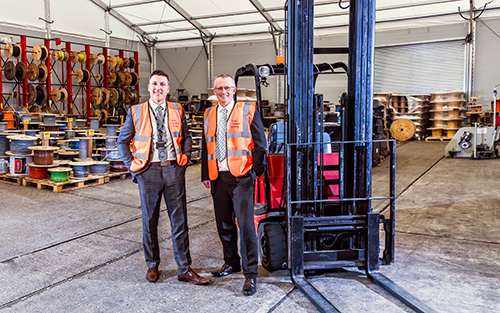 Craig Marks & Nick Savage in the new extension
CEF has satisfied the growing demand for online ordering, with a new 8,000 square foot extension to their customer fulfilment distribution warehouse which supports their award winning best in class website.
Since the launch of cef.co.uk in January 2015, CEF has seen rapid online sales growth and as a result the company quickly reached capacity at the existing 58,000 square foot site. Craig Marks, Divisional Manager for CEF, says: "This is a very new and dynamic market and one which continues to grow quickly. To continue to provide the level of service which our customers expect we realised that expansion was essential."
The warehouse expansion will not only allow CEF to continue to provide the highest levels of customer service, it will also ensure that more products are available on a next day basis for customers ordering up to 8pm. Craig continues: "Having the right width and depth of stock is imperative in our business. This expansion means that we now have 30,000 products available for next day delivery from over 200 suppliers and as a result we are able to provide exactly what our customers need, when they need it."
As well as capacity for greater levels of stock, the extended warehouse incorporates a dedicated area for cable cutting and an expanded packing area. Craig concludes: "We are very excited about the warehouse extension as it will have a huge impact on the service that we are able to provide and we will have a greater degree of flexibility when meeting the needs of our customers."
The success of cef.co.uk was recently recognised at the 2016 Electrical Wholesaler Awards, where CEF picked up 'Best Website' award. Jeremy Saunders, General Manager at CEF, who spearheaded the development of their online service explains, "Digital capability is so important in all businesses these days. Although a substantial part of our customer base will still call into one of our 390 branches, there are a growing number of customers wanting to source and order products online. More and more businesses expect to be able to order online just as they order their own grocery or clothes shopping."
"We see our website as giving customers the choice and flexibility they require and it's a totally integrated solution; customers can check local branches stock before heading in to pick up what they need or order online for next day delivery. Customers simply see it as an extension to the great service our branch network already offers."
13/05/2016
City Electrical Factors is celebrating success after scooping two awards at the Electrical Wholesaler Awards 2016.
The Awards took place at the Park Plaza Riverbank, London on Thursday 12 May 2016 where CEF collected the Best Website Award and one of their Aspire trainees won the Training Excellence Award.
In winning the award for Best Website, CEF impressed the judging panel with their cef.co.uk platform, which provides customers with access to almost 30,000 product lines from over 200 industry leading brands. It enables customers to source products, check stock and place orders for next day delivery right up to 8pm at night. The website was also recognised for offering advanced and unique account functionality which was specifically designed to make the lives of customers easier. Launched in 2015, the online service is proving so popular that the business has already had to extend warehousing operations to meet demand.
Cory Bates,scooped their second award of the evening, for Training Excellence whilst on the CEF Aspire Programme. The two-year course encompasses all aspects of the electrical industry and provides an insight into each and every role within the CEF business. The programme impressed the judging panel with its ability to offer bright young individuals in-depth business and industry knowledge, which will help them to become future business leaders. Cory also impressed with his personal commitment to training by taking additional EDA learning modules on top of an already rigorous programme.
Charlie Beddows, Managing Director of CEF, commented: "We are delighted to be the winners of two awards at this year's Electrical Wholesaler Awards. This is the first time we have entered and to be successful with both our category submissions is a real achievement."
"These awards are testament to our commitment to deliver exceptional service for our customers and we are particularly proud that this has been recognised by an independent judging panel. It's also a well-earned recognition for the many CEF staff involved in bringing our website vision to life, particularly as this project was 100% delivered in-house. We are also very pleased, not just for Cory, but all our Aspire trainees. This success is motivating for all our Aspire trainees and we look forward to watching how they progress within our business over the years to come."
Keep up-to-date with the latest news
City Electrical Factors on Facebook
City Electrical Factors on Twitter.

25/02/2016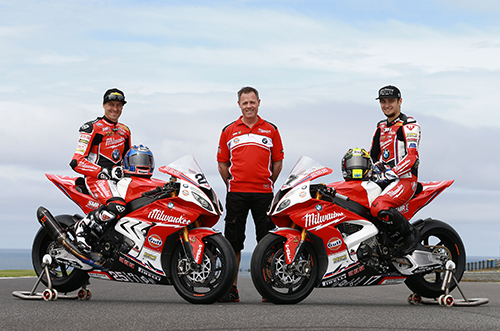 Leading electrical wholesaler City Electrical Factors lines up on the starting grid for the first time in 2016 as sponsors of the Milwaukee BMW Motorrad World Superbike Team.
As the Milwaukee BMW Motorrad Team prepare to debut in the 2016 FIM World Superbike Championship in Philip Island, Australia on 26th – 28th February, CEF were revealed as a sponsor at an eagerly anticipated press launch.
Milwaukee BMW Motorrad was the last of the teams to reveal and anticipation had built since the team began testing in a neutral black livery at Circuito de Jerez in late January. The team launch happened on 25th February ahead of the first race of the season at a packed press event. The team unveiled their new sponsors, bike livery and team wear to the world; followed by a Q&A session hosted by Michael Hill with the riders and management. CEF join Milwaukee, Gulf, Euro Car Parts, Booth Construction and AB Racing as sponsors of the SMR team.
Jeremy Saunders, CEF General Manager commented; "We are really excited to support Milwaukee as sponsors of the new SMR team as they move up from British Superbikes to the world stage."
He went onto add, "Motorsport and in particular Superbikes are extremely popular with many of our customers and this is an excellent way to make the CEF brand more visible and build customer relationships and we look forward to a thrilling season ahead."
The SMR team made two significant changes to their plans in 2015 - after two British Superbike Championships in 5 years with Yamaha, the team announced new bike partners [BMW] and the move up from British to World Superbikes.
Speaking at the launch, team principal Shaun Muir said,
"It's a proud moment for the team and our sponsors to unveil the bikes and riders to the wider public here at Phillip Island. The build up to this point in time has been tremendous. My team and riders have faced every possible challenge in such a short period of time. Logistically and technically we have ticked every box. In fourteen weeks we have gone from a domestic championship winning team to World Superbike contenders. With just six problematic test days behind us, we hit the track here at Round 1 in Australia. It's clear and obvious we are on the back foot in terms of on-track performance, however I have every faith in the team and especially Karel and Josh that they will start to get the feel and understanding of the Milwaukee BMW 1000RR and results will follow. I'd like to take this opportunity to thank our sponsors for their support in this new exciting project."
CEF will be joining WSB fans from across the globe watching Milwaukee BMW Motorrad team riders, reigning BSB champion Josh Brookes and former Grand Prix race winner Karel Abraham, in their inaugural World Superbike Championship comprising 14 rounds across 11 countries.
23/02/2016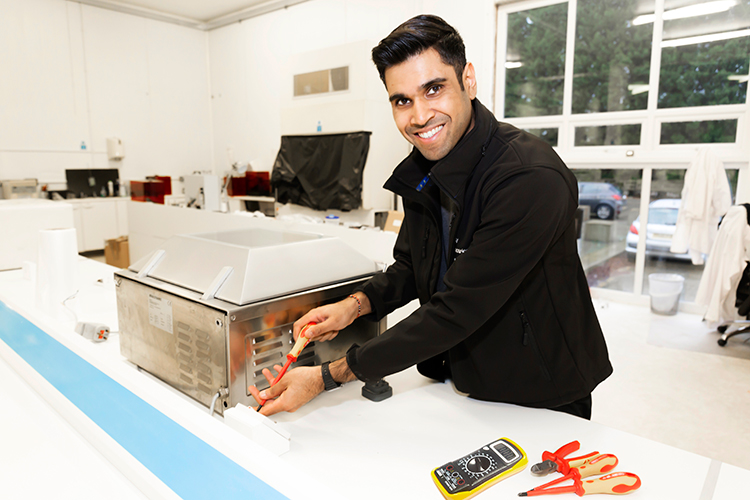 Engex and Ethos have invested in the future stars of the electrical industry by kitting out 21 of the latest recruits to CEF's Aspire Commercial Graduate Programme with an extensive set of tools.
Aspire is a two year programme which focusses on turning talented individuals into future business leaders and throughout the programme they gain an insight and understanding into all aspects of the business from managing to manufacturing.
Trainee Jay Patel says: "The Aspire Programme is a really exciting opportunity and allows us to learn everything there is to know about the electrical wholesaling industry. The structure ensures that we experience every part of the business so that at the end of the two years we are able to use this knowledge to benefit CEF's customers."
Seeing things from the other side of the counter is an integral part of the Programme which is why the trainees spend three months on site with an electrical contractor. But it isn't just about standing and watching because each trainee will be expected to get their hands dirty on site. Having the right tools is therefore imperative and will ensure that the trainees can make the most of this experience, safe in the knowledge that they have tools which conform to the highest safety standards.
Ian Par, Divisional Manager for Ethos says: "CEF train their staff to observe the latest safety legislation and standards. With this in mind, we are happy to provide the latest, state-of-the-art technology testers to start trainees off on the right foot."
Each trainee has been provided with pliers, screwdrivers and other essential items courtesy of Engex together with a Multimeter, Voltage/Continuity Tester and a Socket Tester from the Ethos range.
Kevin Chippendale, Divisional Manager for Engex says: "It is essential to have the right tools for the job and we are happy to provide Engex quality equipment to CEF in support of this important training initiative."
The 21 trainees will now embark on the next step of the training programme which will see them learning the ropes from the experts whilst gaining valuable knowledge about what a contractor really wants from their wholesaler.
09/12/2015
City Electrical Factors (CEF) has become the first large electrical wholesaler to secure the prestigious ISO 9001 accreditation across all of its 391 branches in the UK. The award follows a major company initiative and highlights CEF's commitment to consistent high standards and the best level of service for all its customers.
ISO 9001 is a globally recognised standard of Quality Management Systems (QMS). No other major electrical wholesaler has yet managed to achieve this level of accreditation across its complete branch network. The award further cements CEF's reputation as the UK's leading family owned electrical wholesaler and reflects the company's customer centric approach and branch-wide quality control.
John Cantwell, Health & Safety Manager at CEF said, "Successful accreditation to ISO 9001 throughout all 391 branches in the UK is a fantastic achievement and we are the first large electrical wholesaler to have all sites approved to international standards.
To our customers, this accreditation shows that we have consistency in operations across all sites and a process for continuously seeking improvements in the service provided to our customers."
The Quality Management System sets out the standards in facilities, people, training, services and equipment, all of which are maintained to provide customer satisfaction. CEF attributes its QMS success to our staff in branches, the bespoke IT and management systems in place across its network.
Mr Cantwell went on to say, "To achieve accreditation, we are audited by SGS, an external accreditation company, who require us to demonstrate that we are adhering to our policies and procedures and are continuously monitoring our operations and practices to achieve on-going benefits for customers and CEF."
For CEF, gaining ISO 9001 certification is a major step towards improving working practices across the board with customers ultimately benefitting through the best levels of service.
13/11/2015
A group of senior managers from City Electrical Factors will be spending the night of Friday 27 November in a car park in Birmingham... and it's not what you think! CEF are lending their support to St Basils BIG SLEEPOUT, to raise much needed funds for the homeless.
The team hope to raise £10,000 for St Basils, a charity that works with young people aged 16-25 who are homeless or at risk of homelessness across the Midlands. At any one time St Basils could have over 400 young people living in one of their 27 supported accommodation schemes and each year help over 4,000 break the cycle of homelessness by giving them the necessary skills and training.
The charity is striving to raise £750,000 this year to provide intensive support to their young residents for their Learning, Skills and Work service, which is an integral part of helping young people move on successfully.
Hundreds of people take part in the event, spending a cold night with nothing but a sleeping bag, cardboard and team spirit to keep them warm. Every year there is friendly competition to create the best cardboard accommodation. Never ones to turn down a challenge, the CEF team will be keeping busy and warm making their own cardboard creation. You will be able to catch up on how they did at CEF.co.uk/news after the event or follow #bigsleepout on social media.
Charles Beddows, Managing Director at CEF said,
"Not many people would choose to spend a night sleeping outside in a Birmingham Car Park on a cold November night. We are doing this to raise much needed funds and support people who have to do this as a way of life".
If you would like to make a donation you can do so at the CEF Just Giving page: justgiving.com/cefsleepout/, Or you can find out more about the charity at Stbasils.org.uk