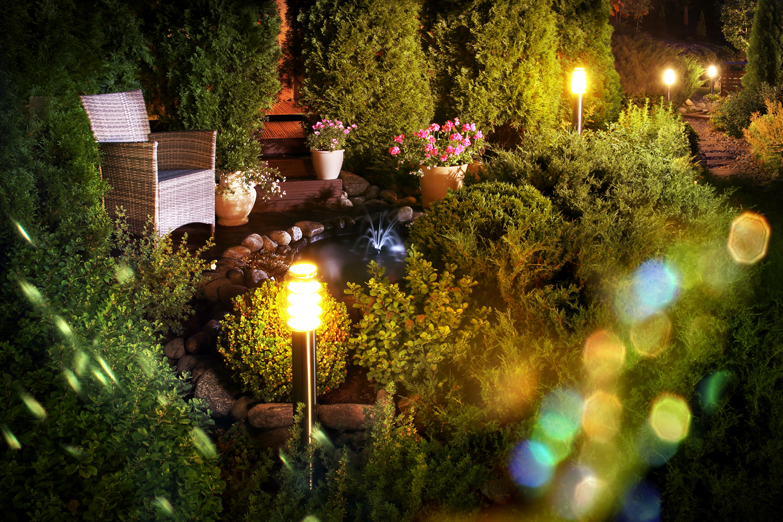 Help your customers make the most out of their outside spaces this summer with our comprehensive range of outdoor lighting solutions.
Whether you're installing security lights for a commercial customer or sprucing up a garden with some stylish decking lights, at CEF we have a wide range of outdoor lighting solutions for both functional and decorative purposes. But what products are right for your project?
Here, we round up the most popular types of outdoor lighting and recommend what to use where.
Bollards
Perfect for pathways, walkways and driveways
Bollards are a great way to light walkways or passages outside commercial buildings or large domestic spaces. When used with a chain or rope, they are also great for edging pathways or carparks.
Collingwood's IP65 LED Wooden Bollard throws a neat 30-degree pool of illumination where it's needed, reducing light pollution, and the 1W LED inside keeps running costs down. Available in a natural wood that can either be treated, painted or varnished, it won't look out of place wherever it is installed.
Lanterns
Great for gardens, entrances and low-lit outdoor areas.
Lanterns are a useful and decorative addition to outside spaces. Eterna's Exterior lanterns, rated IP44, come in a range of styles, from sleek and modern to more traditional designs – and are available with built-in PIR sensors, making them a great option for style and security outside domestic dwellings or small commercial premises.
Decking lights
Great for small spaces
An unobtrusive addition to garden lighting, these LED decking lights are a low-energy replacement for halogen. With an IP68 rated driver and a lamp life of up to 30000 hours, they're a versatile and long-lasting outdoor lighting source that won't take up space in a small garden or narrow walkway.
Ground Lights
Best for outdoor illumination.
Knightsbridge's ground lights are available in spike or ground recessed models: a combination of the two can really make an impact when illuminated domestic or commercial outdoor spaces. Use the IP67 rated ground recessed lights as an accent for flower beds and the IP65 rated ground mounted spikes to light up larger areas, buildings, or trees.
Save Energy – Switch To LED
With a wide range of garden lights now available in LED, you can help your customers save money on their energy bills without compromising style, function, colour or tone.
Know Your IP ratings
Ingress Protection, or IP, ratings determine what products to use in what areas, depending on the amount of dust and water the product will be subjected to.
All of CEF's outdoor lighting ranges are IP rated for outdoor use, but it's important to choose products that are right for the environment they will be installed in.
Here's what the digits in IP ratings mean:
IP – Ingress protection
1st Digit – degree of protection against solid objects, with 0 representing no protection and 6 representing full protection.
2nd Digit – degree of protection against water, with 8 being the highest rating (suitable for full submersion in water).
All of our products are available to order today for next day delivery. Click here to shop our full outdoor lighting range now.