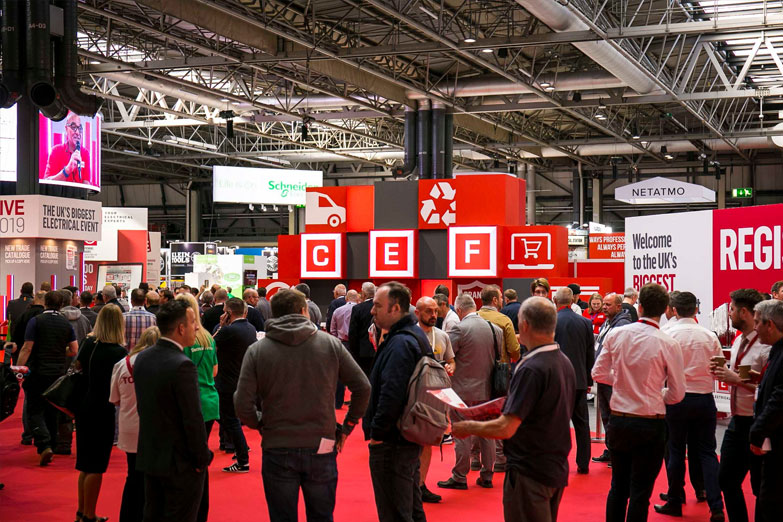 CEF LIVE 2019 took place at the NEC in Birmingham this June, bringing a jam-packed two days of industry insights and trends, new product launches, NICEIC Tech Talks and amazing on the day deals to almost 4,000 electrical professionals.
CEF LIVE returned for the third time this year and it was bigger and better than ever before. With more than 55 leading electrical brands including Schneider, Aico, Dimplex, Philips, Scolmore, DeWALT, Milwaukee, Nest and Hive exhibiting the latest products and offering unbeatable on the day deals - it was no wonder it attracted the masses from the electrical community.
Across both days, CEF LIVE 2019 gave a thorough insight into the latest innovations, industry developments and opportunities, featuring seminars from industry experts and the NICEIC.
Jaguar LandRover took to the Innovation Zone to explain "How the iPace was born" and Philips Signify introduced "Connected Lighting". Market leaders in fire and carbon monoxide protection - Aico discussed how changes to BS5839-6:2019 will affect the industry and lighting solutions manufacturer Tamlite, explained the health and wellbeing benefits of installing LED lighting.
Topics within the Tech Talk Zone led by the NICEIC included a Q&A session on the biggest changes within the 18th Edition, as well as presentations on SPDs, AFDDs, Smart Technology and Electric Vehicle Charging.
Growing interest in the electric vehicle charging opportunity was clear with the Tech Seminar filled to capacity during both sessions. CEF's brand new EV Charging Guide featuring must-have products, technical information and industry insight was launched at the event and proved just as popular with attendees looking to take advantage of this lucrative new market.
Free calibrations were also offered on site as well as more than 100 exclusive never to be repeated CEF LIVE On the Day Deals. Visitors who had registered online beforehand received a £50 voucher upon arrival to spend on future purchases of £100 or more at cef.co.uk.
"CEF LIVE is the biggest event in the electrical industry calendar and this year, it proved to be bigger and better than ever before - with more exhibitors, more products and more deals" stated Andrew Moseley, CEF's Commercial Director. "As your electrical experts, CEF are committed to helping our customers keep up to date with the latest regulations and trends in our sector so our Tech Talk and Innovation Zones were designed to ensure our customers learn what lies ahead for the future of the electrical industry.
"It really was an invaluable day out for electrical professionals to connect with new or existing suppliers and pick up some of the latest and essential products at unbeatable prices."
"The show was a huge success and another step up from the previous two CEF LIVE events we held in 2017 and 2015. It was great to see customers and exhibitors' enthusiasm for the event: there was a palpable buzz across both days, as people from all aspects of the electrical industry got together to discuss challenges, opportunities and new innovations. We are thrilled with the turn out, and the positive feedback we have received from our customers, our suppliers and the press."