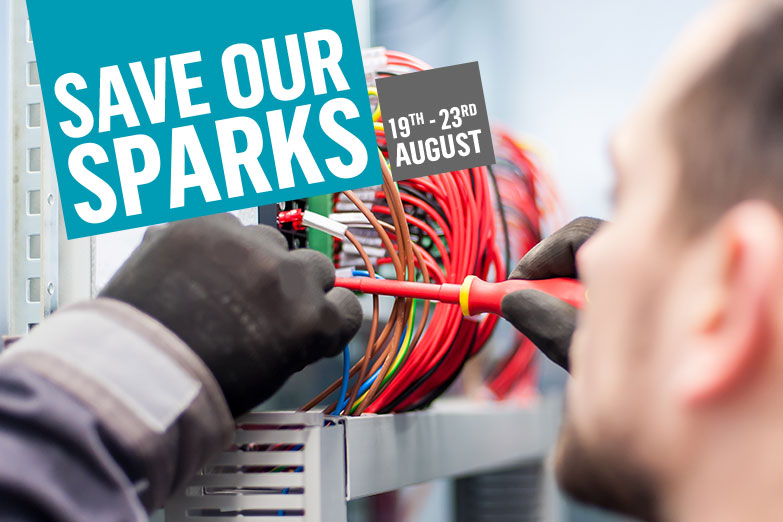 CEF and Super Rod have teamed up to launch Save Our Sparks, a brand-new safety awareness campaign, inspired by Michael's Story – a charity founded to raise awareness of the need for safer working practices in the electrical industry.
Michael Adamson, an experienced electrician, was just 26 when he died after coming into contact with mains voltage power in a workplace incident in August 2005. It was a tragedy that could have been so easily avoided, if the site where Michael was working had followed safety procedures, and Michael had had the tools he needed to ensure that power had been effectively shut off.
His sister, Louise Taggart, began Michael's Story as a way to engage with tradespeople and business owners about the risks of poor electrical safety. With Save Our Sparks, CEF and Super Rod are joining the cause, spreading the message within the electrical industry for installers to get smart about their safety.
Shockingly, a survey of more than 800 members of the Electricians Community Forum on Facebook last year revealed that a quarter of electricians rarely or never used a lock out kit to isolate the electrical supply they are working on. As many as one in five didn't even keep one in their tool kit.
A further one in ten electricians surveyed said they didn't use a voltage tester to prove that the connection is dead before starting work on an installation. One third of respondents answered that they were experienced enough not to make mistakes, so didn't need to test.
Yet on a busy site – particularly one with public or commercial access – you can't always be in full control of power supply, and mistakes do happen, even when measures have been taken to prevent them. A simple piece of testing equipment takes a moment to use, but has the potential to save your life, or the life of a colleague.
In Michael's case, the HSE's investigation into his death found a multitude of safety failings: no lock-out kit was used, no voltage tester was used, and Michael's team had inadequate pliers in terms of leverage and insulation.
With this in mind, we have facilitated a unique collaboration across three of our industry's strongest brands, Klein Tools, Megger Instruments, and MCG to offer you a special discounted bundle of products to help you stay safe at work.
For only £94.95+VAT our Save our Sparks bundle includes; Megger AC/DC Voltage / Continuity Tester, Klein Tools VDE Rated Insulated Cutters and a free MCG Lock Out Kit.
Chris Ashworth, Director of Operations, at CEF said: "Installer safety is of paramount importance to us as a wholesaler, whether that's ensuring electricians have all the PPE they need for work or the safest, high quality tools to use on the job. With the Save Our Sparks campaign we are taking that commitment to our customers one step further by offering potentially lifesaving equipment at a discounted price to make it more affordable, alongside a poignant reminder about why safe isolation is so important. Hopefully this encourages more people to work safer, and ensure Michael's Story doesn't happen again."
Make sure you stay safe and order your Safety Tools bundle here or visit your local CEF store.