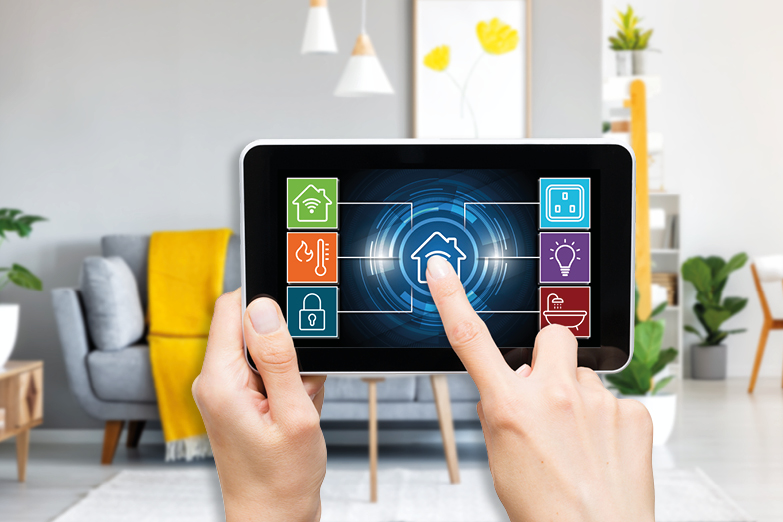 Smart technology makes people's lives easier, it ensures businesses work more efficiently, and it helps combat climate change. Now's the time for contractors to get smart about smart homes [and commercial spaces] and the vast opportunities the connected living market brings.
Connected living is increasingly seen as the answer to people's busy lifestyles. Demand for devices that can talk to one another and be controlled remotely is on the up. According to YouGov, almost a quarter (23%) of Britons now own one or more smart home devices, while one in ten (8%) now have two or more.
Controlling your heating, lighting and home security through a smartphone or tablet is now the norm and people's expectations of their devices will only grow. According to analysts at PwC, £10.8bn will be spent on smart devices in the UK in 2019 alone, with 40% of device owners expecting to upgrade within two years.
Andrew Moseley, CEF's Commercial Director says: "Over the last six months we have seen a real upturn in the demand for 'smart' devices. Connected living solutions are undeniably growing very fast – and we are now starting to see recognised brands introduce products for the commercial market."
This matches contractors' expectations. A recent survey by NICEIC found that 95% of the contractors surveyed believe smart home installations will continue to rise. However, despite this 66% of respondents said they do not or rarely undertake smart home installations, highlighting just how much potential there is for more electricians to take advantage of this growth area.
Manufacturers are working hard to reduce the complexity of smart technology and simplify the user experience, making it more accessible for all kinds of consumers – including technophobes. Our Get Smart, Get Connected initiative is helping electricians to navigate the smart home landscape and ensure that they can take full advantage of this evolving market. With more products entering the market, connected living is no longer an expensive dream but an affordable reality that contractors can bring to their customers.
Growth drivers and what it means for contractors
Much of the growth in smart technology is coming from the smart security market, with demand for smart surveillance and door locks rising significantly. According to techUK, 37% of consumers see security as the biggest benefit of smart home technology. Given that cameras and smart home security generally requires a professional installation, this is excellent news for the trade sector.
Smart heating and smart entertainment are also driving growth. According to PwC, around 39% of consumers are introduced to smart technology via smart entertainment systems, such as smart TVs.
Lighting is another area with significant potential. Lighting design for impact and effect is common place in commercial environments and the introduction of smart,
connected lamps and luminaires is set to revolutionise how lighting is installed and used in domestic properties. More than 30% of households believe they are likely own smart heating, lighting and security services in five years' time, according to EY (Ernst & Young).
Despite the specialist nature of the technology involved, only half of respondents to the NICEIC survey had undertaken formal training in fitting smart devices. Instead, many contractors choose to test devices in their own homes before installing them for clients. Whilst NICEIC doesn't criticise this approach, it does recommend that contractors invest in some formal training – plenty of which is available to suit all budgets.
The smart way to combat climate change
The benefits of connected living go beyond just convenience; smart technology also has a major environmental role to play. The UK government's smart meter rollout requires energy companies to install smart meters in all homes and small businesses by the end of 2020. By encouraging consumers to monitor their energy usage, it's hoped they'll make their homes more efficient too – helping the government meet its greenhouse emission targets.
Energy efficiency is a huge benefit of smart installations that should not be overlooked. As consumers - particularly younger generations - become more environmentally conscious, they're looking for new ways to make their properties more energy efficient. Contractors have an opportunity to recommend solutions to these consumers, such as remote lighting and heating, which help them avoid waste by being able to turn appliances on or off, up or down, from anywhere.
How smart technology works
Smart homes vary in their complexity. At the simpler end of the spectrum they're put together using plug-in modules and household wiring, and at the more sophisticated end they involve wireless systems which are programmed over the Internet.
X-10 smart home automation systems use ordinary household electricity wiring to switch multiple appliances on and off without the need for extra cables to be fitted.
This approach uses household wiring like it's a computer network.
For the more advanced approach to smart tech, wireless connectivity is the answer. X-10 and RF can let you switch on devices at particular times, but a wireless system allows you to use a cloud-based system to control devices remotely.
As for wired technologies, for larger homes and commercial properties, CAT5/CAT6 systems such as Smart Home Head Ends (SHHE) are typically used. Due to the complicated, large-scale nature of these jobs, it's recommended that contractors undertake training before installing these systems.
Key products for the smarter home and office
With such a range of smart products available, knowing where to start and what to recommend can feel daunting. Thankfully, you can categorise smart technology products as you would ordinary ones – for example, smart lighting, smart electrical, smart heating, smart security, smart entertainment and even smart bathrooms.
When it comes to installing smart products, start by talking to your customers about their needs and budget, as you would for any other job. Then, consider whether it's a new build property, in which case wiring should be straightforward, or an older property, which may benefit from wireless technology only (e.g. Wi-Fi), so as not to disturb the fabric of the building.
Most important of all, do your research. Issue 03 of CEF's Get Smart, Get Connected brochure includes over 100 new products and contains lots of information and tips to help you get ahead in this rapidly growing sector.
Here are some ideas to get you started:
The demand for smart technology is there and it's growing. Consumers understand that the tech they need to make their home and working lives easier exists, but what they need is guidance about how to make it work for them in practical terms.
The smart revolution is happening and now's the time for contractors to take advantage of the range of information and products available from CEF and leading manufacturers to create truly smart working and living environments for their customers. Embrace the technology, seize this opportunity, and the possibilities are endless.
Issue 03 of the Get Smart, Get Connected brochure has all the products and information needed to become a smarter smart home installer.
Available now to pick up from your local CEF store or download a copy online at cef.co.uk/getsmart