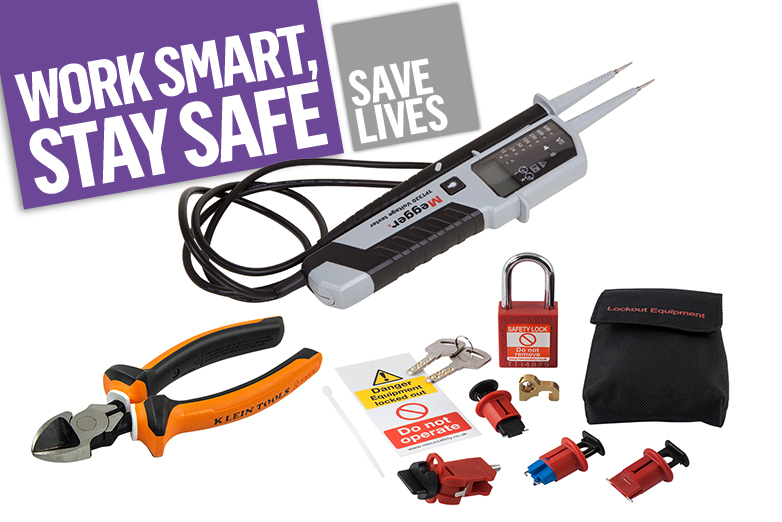 Establishing safe working practices is essential and filling your toolbox with the best tools to get the job done safely is vital. That's why we have bundled lifesaving equipment into an affordable pack for electricians.
Encouraging installers to work safer is high on the agenda for CEF and cable rod manufacturer, Super Rod. Shockingly, a recent survey* by Super Rod revealed that a quarter of electricians rarely or never use a lock out kit to isolate the electrical supply they are working on, and 1 in 5 don't even carry one in their van or tool bag.
The tragic consequences of failing to implement safe isolation procedures is highlighted by 'Michael's Story'. Michael Adamson was just 26 when he died after coming into contact with mains voltage power in an incident at work in August 2005. Michael was an experienced electrician but there were a number of health and safety failings on the site where he was working. Since then his sister Louise Taggart has been campaigning tirelessly to raise awareness of the need for safer working practices in the electrical industry.
To support Louise's efforts, in collaboration with Super Rod, we want to get more installers thinking about their health and safety at work and in particular, help apprentices get into the habit of following guidelines and working safely from day one. As a result, we have facilitated a unique collaboration across three of the industry's strongest brands, Klein Tools, Megger Instruments, and MCG, to create a safety tools bundle specifically designed to address all of the issues highlighted by Michael's Story.
"Installer safety is of paramount importance to us as a wholesaler" stated CEF's Commercial Director Andrew Moseley. "Whether that's ensuring electricians have the PPE they need, or the safest high quality tools to use on the job, we want to encourage more people to work safer and ensure Michael's Story doesn't happen again. Our safety tools bundle contains a lock out kit, voltage tester and a set of VDE rated insulated pliers at a discounted price making it more affordable for our customers."
The Safety Bundle [SK2019] costs only £96.85+VAT and is available to buy from CEF stores or click here to buy now.
*ECUK Facebook Group 2018 survey.