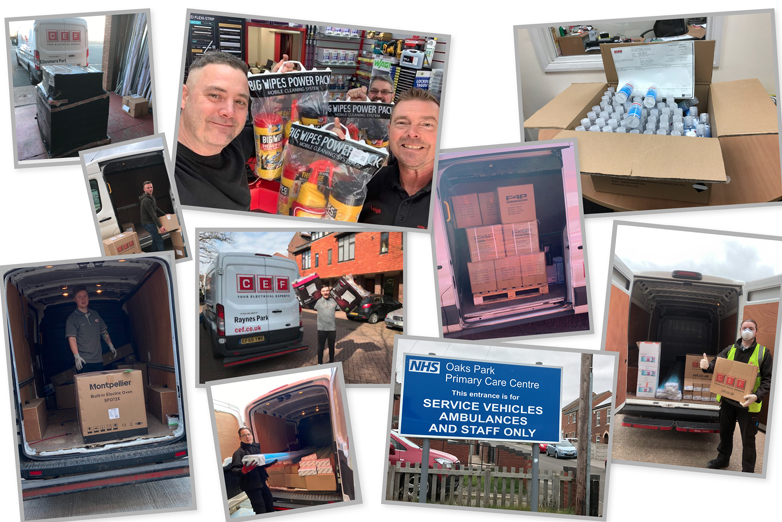 16th April, 2020
As the country continues to grapple with the COVID-19 pandemic, tremendous acts of kindness and uplifting moments are coming to light as we prioritise the health and safety of ourselves and our families.
Organisations and communities are pulling together in a massive way to support one another in an effort to minimise the spread of the virus that has turned our world upside down.
At CEF, our team is working hard to ensure our customers have access to the essential electrical products they need, and every day we are hearing amazing stories about how colleagues are going above and beyond to help their customers, neighbours and communities.
In these uncertain times, these stories are small but powerful glimpses of light amid the gloom. We'll be sharing some of them here over the coming weeks and we hope you find them inspiring as we look forward to brighter times to come.
Care in the community
While as a company we are working to ensure our customers have all that they need during this uncertain time, some of our colleagues are taking that extra step to make sure the at-risk and vulnerable in their communities have everything they need.
When CEF Balham's Andy Pye received a text about a vulnerable lady who's heating had broken, he joined forces with Ryan Phillips from CEF Cheam to make sure she received some new convector heaters the very same day.
"Dear Andy, Can I just say how impressed I was with your and CEF's support in these difficult times. I don't know any other supplier in my phone book who would answer a personal text late evening and manage to get a same day delivery out for a vulnerable tenant, and especially pre assembling them for her. She is incredibly grateful and now has heat in this difficult time whilst we wait to get plumbers to repair the heating. It just goes to show how your personal approach as a manager really gets things done. Yours gratefully"
When our Evesham team recently learnt of an elderly couple who were in isolation and in desperate need of a new fluorescent tube for their kitchen, they wasted no time in getting the lamp out to the couple despite the 10 mile round trip.
A DIY approach
Not only has our colleague Neil Singh from CEF Romford volunteered to shop for his elderly neighbours who are self-isolating but in need of food and supplies, he is also helping to stack the shelves at his local supermarket where an increase in customers has made it a challenge to keep the shelves topped up.
Supporting first responders
In the last week, CEF has supported the NHS by providing 880 litres of Hand Sanitiser for frontline staff at an NHS hospital.
With hand sanitiser in short supply, the donation goes a little way in helping ensure our NHS heroes can continue to do their vital work during the pandemic.
We are pleased to be able to play a small part supporting this hospital as they continue to provide a crucial service to communities in these difficult times.
Supplying much needed PPE to hospitals across the UK
Several hospitals across the UK have received much needed PPE supplied by CEF to protect the health workers on the frontline treating COVID-19 cases.
The supplies have included masks, glasses, latex gloves, hand sanitiser and Big Wipes antibacterial products.
Getting the supplies to each of the hospitals has been a national effort with CEF stores in Ashton, Barnsley, Carmarthen, Chessington, Tamworth and Trafford Park involved.
Ensuring power supply for new hospital wards
The construction of new Nightingale hospitals and dedicated coronavirus wards across the country has required urgent electrical products to ensure the new health facilities are operational on time.
From power leads, to RCD protection, distribution products to cable, we have supplied a whole host of items from a number of CEF stores including Ashton, Dundee, Eastbourne, Fareham, Gateshead, Hull, Romford, Stockport and Sunderland - much to the delight of our customers:
"Without CEF being operational we would have struggled to fit urgently needed sockets into new wards being made in the Queen Mary Roehampton Hospital London . The Branch Manager Jason went beyond, still working until 8pm to make sure that we were able to get the job completed. Some of the materials came straight from the supplier and no additional charge was given as this was urgent NHS work. In the coming weeks we know we can rely on CEF to get the equipment so urgently needed."