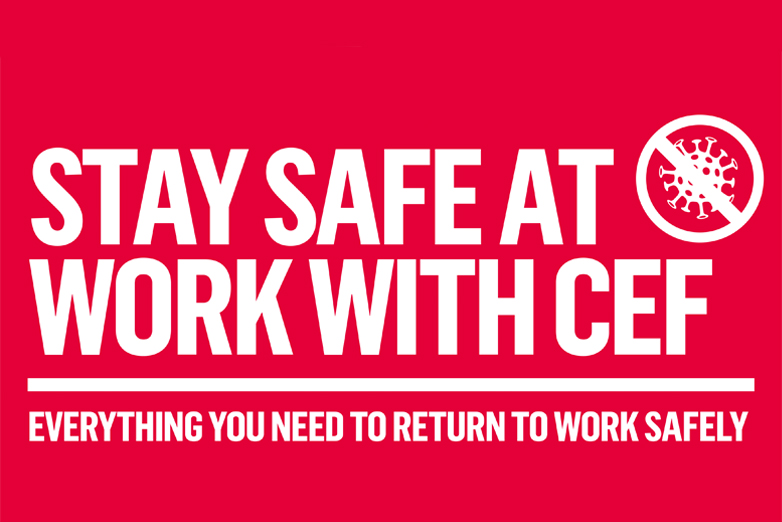 Stay alert, Stay safe.
As the government publishes guidance for employers to help them get their businesses back up and running and workplaces operating safely, we have a range of products to help keep your workplace safe and COVID-19 secure.
To help you get started, here's 4 things to help you reopen safely:
Stagger the return of employees
Enable employees to work from home if possible, but for those who cannot work from home, consider staggering start times, alternating shifts and workdays and provide handwashing facilities or hand sanitisers at entry and exit points.
Our range of mobile sanitising solutions can help you eliminate the risk of viral transfer when employees arrive and depart site


Protect employees' health
Where necessary provide proper PPE such as facemasks, gloves and coveralls. Screening of employees temperature and overall health can also help keep the workforce safe.
We have a wide range of PPE available to order and can provide protective screens and non-contact thermometers.


Increase cleaning
Clean and disinfect all frequently touched surfaces throughout the workplace regularly and increase deep cleaning efforts in common areas.
From sterilising air filters, to room and surface sanitiser mist, we have a wide range of site and office solutions to help with your cleaning.


Re-design workspaces
Use signage to help maintain 2 metre distances between people, create one way walk-throughs, open more entrances and exits, and change seating layouts. Keep areas like lunchrooms, cafeterias and conference rooms off limits where possible and encourage virtual meetings.
Check out our range of signage, posters and tapes to help with social distancing, information and guidance and construction site safety.
COVID-19 Secure
At CEF, we have carried out our COVID-19 risk assessment and can assure you that we are COVID-19 secure, so you can continue to shop with us safely in-store and online.
Download our Stay Safe at work with CEF brochure.
We have everything you need to help keep your workplace safe and COVID-19 secure.
For more information on getting your business back up and running and workplaces operating safely - check out the government's new guidance on managing the risk of COVID-19.