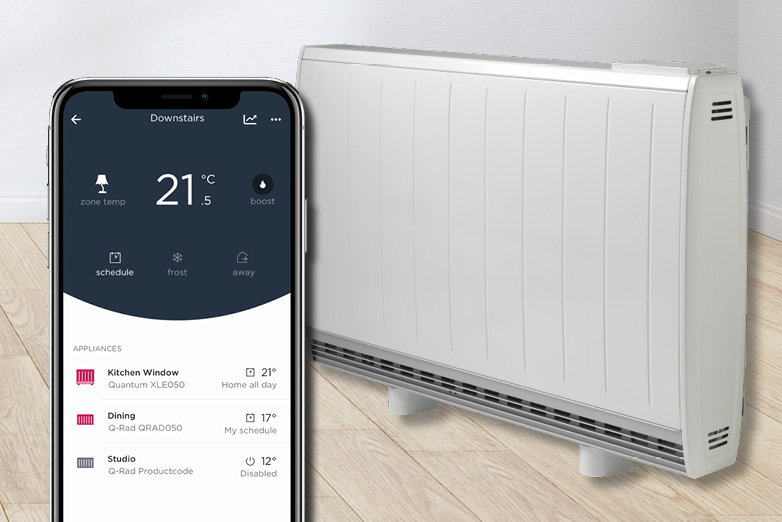 As the cold weather and dark nights draw in, make sure your customers are in complete control of their electric heating with Dimplex Control – the smart solution to home heating.
What is Dimplex Control?
Dimplex Control is the smartphone App that allows users to connect, combine and control their Dimplex heating appliances, including electric heaters and water cylinders.
Control and monitor heating with Dimplex Control. Group heaters into zones to easily control and track their energy usage. Anytime. Anywhere.
Available to download on Android and iOS, Dimplex Control:
Allows users to create heating zones in different parts of the home and control these or individual appliances from their smartphone or tablet, wherever they are
Monitors energy usage - Landlords and end users can track energy usage by heater, zone or site with an hourly, 7-day, 28-day and annual view
Enables control of up to 20 connected Dimplex appliances
Remote access - Monitor and control your heating from anywhere in the world using the Dimplex Control App and a mobile data connection
Support - See faults reported on the App and request help using service mode
Works in tandem with the Dimplex Control Hub and is quick and simple to set up

Additional helpful features of the App include:

Compatible products and entire heating zones can be turned on or off with a simple swipe
Visualises the energy consumption of each product so users can easily track energy usage
Boost function for fast warm-up
Away Mode
Frost Protection functionality
Robust security thanks to full end-to-end encryption of user data in collaboration with Microsoft

All Dimplex Control installations require additional purchase of a Dimplex Hub to connect to compatible products with some products also requiring a Radio Frequency [RF] Module to be fitted.

The Dimplex Hub connects to compatible products - the Dimplex Control App puts power into the hands of the user.

The Dimplex Hub is now available to help installers and contractors enhance their projects, ideal for landlords or tenants, whether they have no access to gas heating or are simply seeking greater control through a modern solution.

The below QRAD and PLXE Heaters require a Dimplex Hub and an RF Module to enable connection to the Dimplex Control App:

Dimplex will be introducing many more compatible products over the next few months, so it has never been a better time to familiarise yourself with this exciting new development from the market's leading electric heating manufacturer.

Shop the full range here.