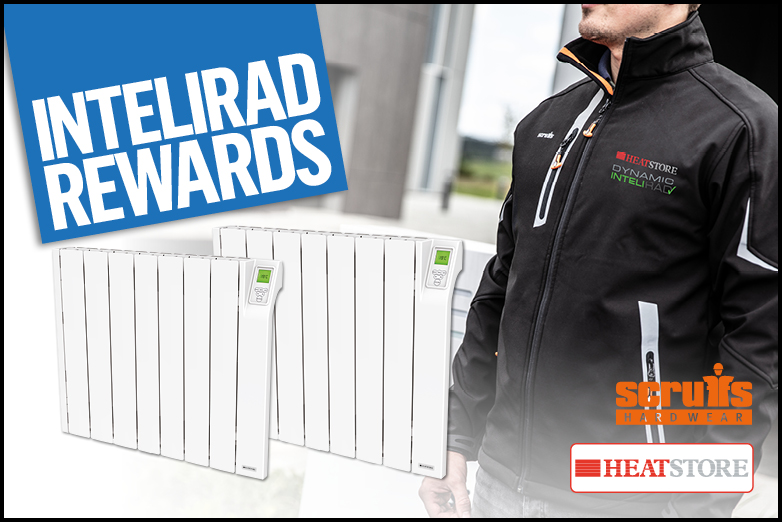 Back for 2020, Heatstore have launched their Intelirad rewards scheme again this winter! Claim your FREE Scruffs Jacket* when you buy 5 or more Intelirad Dynamic Radiators**.
Ideal for both domestic and commercial installations, Heatstore's intelligent Dynamic Intelirad electric radiators offer:
Adaptive temperature control - using specially developed algorithms Intelirad learns from its environment by constantly monitoring its effect on the room temperature, to calculate when to start and stop warming a room to the desired temperature
Touch control system – easily accessible touch panel responds to even the lightest touch
Eco start delayed control – featuring pre-set schedules such as 'home all day' or 'out all day'
Dynamic Efficiency+ technology – temperatures can be set an accuracy of within + or – 0.2° and the power is constantly monitored to minimise over shoot and temperature drift
Colour changing LCD display – the LCD back light changes colour according to the temperature set, to help assist the partially sighted and can be supported audibly if required
Smart open window technology – giving instant energy waste reduction, Intelirad will automatically alter the heat output based on sudden and sustained temperature changes. By optimising the output when heat escapes a room energy waste is avoided and money is saved
IPX4 water rated – suitable for bathrooms
3 year on-site service warranty
10 year aluminium body warranty
Easy install – wall template provided for swift and simple installation
What's more Intelirad can be controlled using the free InteliApp via a smart phone or tablet. The App is available to download from the App Store and Google Play.
Discover the Intelirad range here and find your local CEF here.
*Heatstore Dynamic Intelirad branded Scruffs Pro Softshell Jacket worth £42.75+VAT on cef.co.uk
**Claims for free item must be made at your account holding CEF store – along with proof of purchase.
Offer ends 31st January 2021