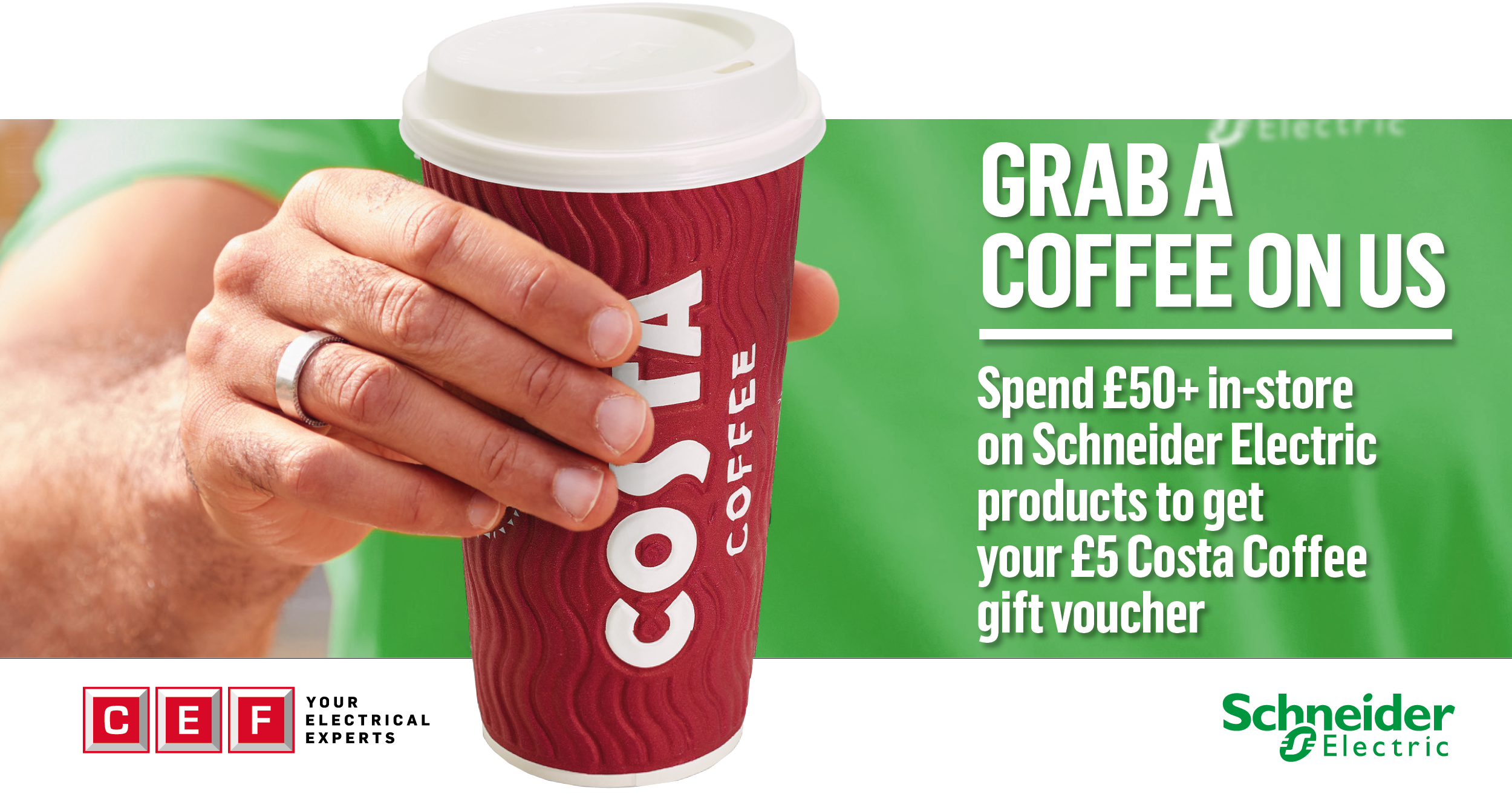 Spend £50 on Schneider Electric products at selected CEF stores and you can also pick up a £5 Costa Coffee gift voucher.
There's a great range of Schneider products available in store – from stylish switches and sockets, practical and flexible consumer units to fast charging electric vehicle chargers and much more. All you need to do is to spend over £50 on Schneider products at a participating store to qualify for your gift card.*
Just pick up your products and ask at the trade counter to receive your Costa treat.
Participating stores:
CEF Abingdon
CEF Airdrie
CEF Aldridge
CEF Aston
CEF Ballymena
CEF Barrow In Furness
CEF Belfast North
CEF Bilston
CEF Birmingham
CEF Bolton
CEF Bournemouth
CEF Bradford
CEF Bromsgrove
CEF Burton On Trent
CEF Buxton
CEF Cannock
CEF Canterbury
CEF Carlisle
CEF Chester
CEF Chesterfield
CEF Cinderford
CEF Clitheroe
CEF Coalville
CEF Colchester
CEF Coventry
CEF Coventry North
CEF Craigavon
CEF Cricklewood
CEF Darlington
CEF Dorchester
CEF Dudley Central
CEF Dundee
CEF Dunfermline
CEF Folkstone
CEF Fort William
CEF Gateshead
CEF Glasgow North
CEF Gloucester
CEF Grays
CEF Guisley
CEF Herne Bay
CEF Huddersfield
CEF Huyton
CEF Inverness
CEF Ipswich
CEF Leeds
CEF Livingston
CEF Lowestoft
CEF Merthyr Tydfil
CEF Nelson
CEF Newcastle
CEF Newcastle Under Lyme
CEF Northampton
CEF Norwich
CEF Oswestry
CEF Penrith
CEF Perth
CEF Plymouth Parkway
CEF Portsmouth
CEF Reading
CEF Redditch
CEF Rhyl
CEF Rossendale
CEF Ruislip
CEF Sandwich
CEF Selby
CEF Skipton
CEF Solihull
CEF St Helens
CEF Stockport
CEF Stoke on Trent
CEF Stourbridge
CEF Stratford
CEF Stroud
CEF Swindon
CEF Watford
CEF West Brom
CEF Wick
CEF Wigston
CEF Winchester
CEF Wolverhampton
*Ts&Cs apply. Offer only available at participating stores, on qualifying products and subject to availability of gift cards.