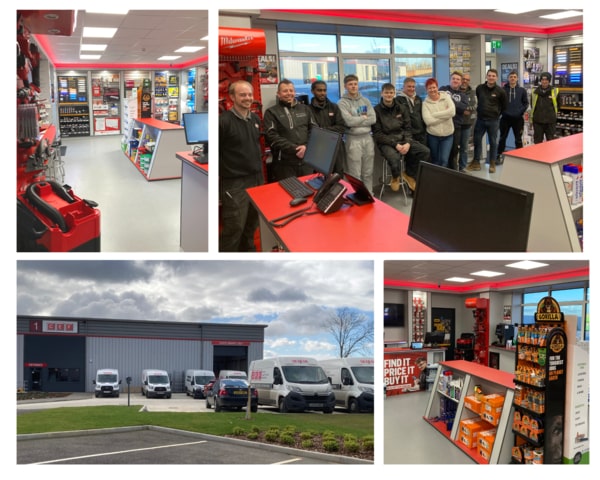 We are excited to open the doors of a new Daventry branch at Signal Park on Monday 27th February. In line with our sustainability vision and renewable products, the new CEF Daventry branch boasts an electric vehicle charging point.
As well as enjoying a more modern branch with 4,000 sq ft of space, customers can also bag a 'deal of the day' as the new CEF Daventry launches with four open days. Over 30 brands, including Aico, Klein, DeWALT, Milwaukee, Scolmore and many more will be showcasing their products.
There will also be a raffle with all proceeds being donated to Macmillan Cancer Support and the Electrical Industries Charity (EIC).
Branch Manager Louisa Merchant is proud of what the new building means for Daventry. She says: "This is the first major development in the town for 20 years and I feel absolutely honoured to have CEF's support to move us to this new location. It really is a dream come true for me and the team."
Louisa started life at CEF as a van driver in 1999 before progressing through a career path to become Daventry's first ever Account Manager in 2004 and attaining her ultimate career goal of becoming Branch Manager in September 2012.
She will be supported by Assistant Store Manager, Ben Tansley who joined from CEF Corby together with Sales Assistants, Kieran Banks, Harry Mews and van driver Josh Smith. Kieran, who joined CEF 2 years ago, has just completed his trade supplier apprenticeship and earned a distinction award, while Harry is working towards completing his apprenticeship.
As well as welcoming customers to a larger, more modern, and better stocked branch, CEF Daventry will be aiming to maintain its tradition of developing employees. To date, four Group Managers, two Directors of Operations and five CEF Branch Managers started their CEF career at Daventry.
The new CEF Daventry is located at:
Unit 1, Signal Park,
West March,
Daventry,Northamptonshire
NN11 4SA
Opening Hours
Monday 07:00 - 17:30
Tuesday 07:00 - 17:30
Wednesday 07:00 - 17:30
Thursday 07:00 - 17:30
Friday 07:00 - 17:30
Saturday 08:30 - 12:00
Sunday Closed
Bank Holidays Closed