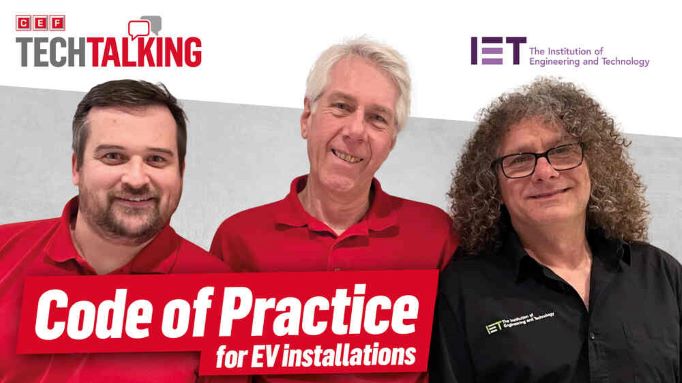 In this episode of the TechTalking podcast we discussed EV charging - where we've come from, what's happening now and where we expect to go in the near future.
Some changes to the requirements for 'Electric Vehicle Charging Installations" were seen in BS 7671:2018+A2:2022. Most notable was the removal of 'indent i' to regulation 722.411.4.1. This was the method describing a three-phase supply where loads were balanced across the entire installation.
In this scenario, should a lost PEN conductor incident occur, then the voltage appearing between true Earth and the metallic outer of the electric vehicle would not rise above 70 V. Whilst this is valid mathematically, it is unlikely to hold true practically as, on most installations, loads would be switching on-and-off across the time frame meaning that the 'balanced' situation would not persist for very long.
Currently, when looking to procure an EV chargepoint, manufacturers seem to be doing things differently from each other. For example, some products incorporate 'lost PEN detection' functionality where one manufacturer may require the installation of an earth electrode, whilst another declares that an earth electrode is not required. This, of course, is very confusing to the electrical installer.
To combat this, IET has set up an industry committee to write a specification for EV chargepoints which will say, for example, 'voltage monitoring will behave in this way' and 'lost PEN detection functionality will operate under these conditions'. Therefore, where chargepoints meet this specification, installers will be able to choose any manufacturer's product and they can be sure it will be suitable for all circumstances.
The IET's Code of Practice for EV Charging Installations is being revised to reflect changes brought about by BS 7671:2018+A2:2022 and developments in installation practices out in the field. The next iteration will be the 5th Edition and the DPC period is likely to be in about June 2023. DPC means Draft for Public Comment; this is where you can have your say on the proposed content. Instructions on how to view the document and comment will be posted on the IET's website and CEF will also circulate the link and relevant information.

TechTalking podcast
In this episode of TechTalking, we get technical about standards and the upcoming Code of Practice for EV installations with Mark Coles Head of Technical Regulations at the IET. Find out how you can add your comments to help improve future guidance and why there's a differences between standards and codes of practice.