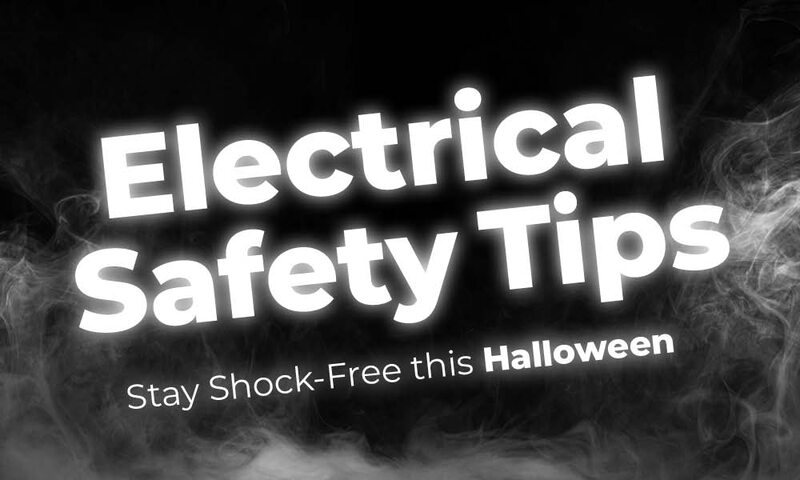 Halloween is creeping up, and that means homes and businesses everywhere are decked out in frightening decorations. Temporary lighting displays, fog machines, animatronics and other spooky effects can overload circuits and increase fire risks if not handled properly.
This Halloween, make electrical safety your top priority:
1. Secure outdoor decorations
Many homeowners go all out with Halloween decorations, including lighting displays and animatronics. When installing outdoor decorations:
· Use outdoor-rated extension cords and outlets.
· Ensure all wiring and connections are weatherproof.
· Keep extension cords off walkways to prevent tripping hazards.
· Use ground-fault circuit interrupters (GFCIs) for added protection.
2. Inspect and maintain decorations
Before putting up Halloween decorations, thoroughly inspect them for signs of wear and tear:
· Check for frayed wires, exposed conductors, or damaged plugs that can easily cause shocks or fires.
· Replace any damaged decorations promptly.
· Store decorations in a dry place to prevent moisture damage.
3. Be cautious with lighting effects
Whether you're setting up haunted houses or spooky displays:
· Use LED lights for their energy efficiency and lower heat output.
· Avoid overloading circuits; distribute lighting across multiple outlets.
· Secure lighting fixtures to prevent them from falling or swinging.
· Use timers, sensors and remote controls to automate lighting displays.
· Inspect all temporary wiring and connections.
· Ensure that generator setups, if used, are properly grounded and operated according to safety guidelines.
4. Keep fire safety in mind
Candles are a common part of Halloween decor, but they pose fire hazards. Recommend alternatives like LED candles or flameless options.
Shop our range of fire detectors
5. Help your clients and customers stay safe
· Advise them to turn off decorations and unplug them when not in use, especially overnight.
· Encourage the use of timers to automate lighting schedules.
· Emphasize the importance of supervision, especially when children are around decorations.
· Advise them to have fire extinguishers on hand.
· Make sure they have your emergency contact information for electrical repairs.
Dangers lurk if electrical safety is overlooked, stay shock-free by putting these tips into practice. Stay safe and have a spooktacular Halloween!