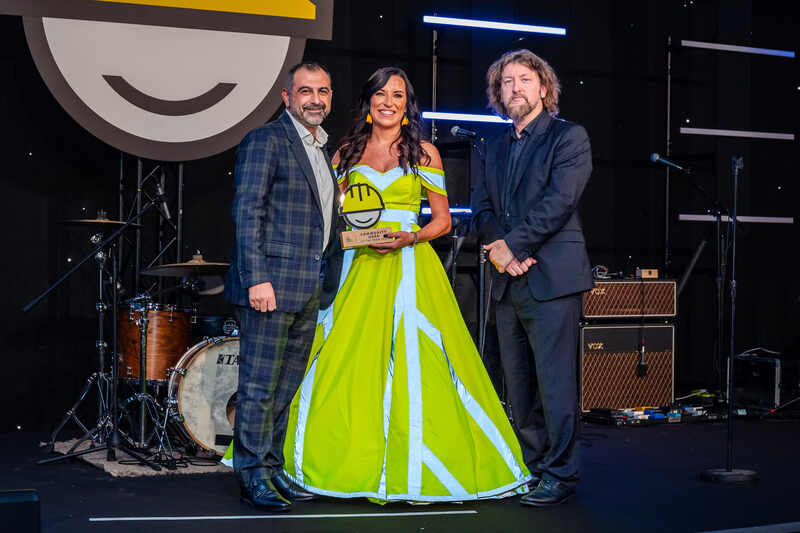 It's time to give a huge round of applause to all the incredible nominees and winners at the On the Tools Awards. Events like these are a fantastic opportunity to celebrate the outstanding work that tradespeople do day in, day out across the UK.
As part of our commitment to supporting trade communities nationwide, we were thrilled to partner with On The Tools this year to sponsor the Community Hero award. This category celebrates individuals who embody the true spirit of community service, going above and beyond to spark positive change and improve lives in their local areas- a mission close to CEF's heart.
The winner was Kelly Cartwright, owner of Core Recruiter LTD who collected the award, kitted out in a custom-made hi-vis dress. Kelly, who has been named among the top 100 Most Influential Women in Construction wants to break down stereotypes and inspire other women within the construction industry.
Kelly says: "I am honoured to receive the Community Hero Award. This recognition validates all the work I've done to promote inclusion, diversity, and gender equality in the construction trades. The construction industry has traditionally been male-dominated, but I want to stomp out limiting stereotypes and show that women can build successful careers here too. Winning this award, especially with CEF's support, gives me an even bigger platform to share my message. Construction needs diversity to continue innovating and meeting demands."
Mick Di Stazio, Director of Marketing, Europe, CEF, was one of the judges and says: "These awards remind us of the positive impact that individuals can have on the lives of others and inspire us all to contribute more to our communities to create a better future. Kelly Cartwright showed the qualities of a true community leader, leading by example and inspiring positive change."
Our collaboration with On The Tools on this award underscores our belief in the power tradespeople have to uplift their communities. We're inspired by the selfless efforts of these community heroes and honoured to celebrate their work. We extend our congratulations to all the nominees and winners who make us proud to be one of the UK's leading suppliers to skilled trades in the UK.
To find out more about the awards visit: https://www.onthetools.tv/awards/