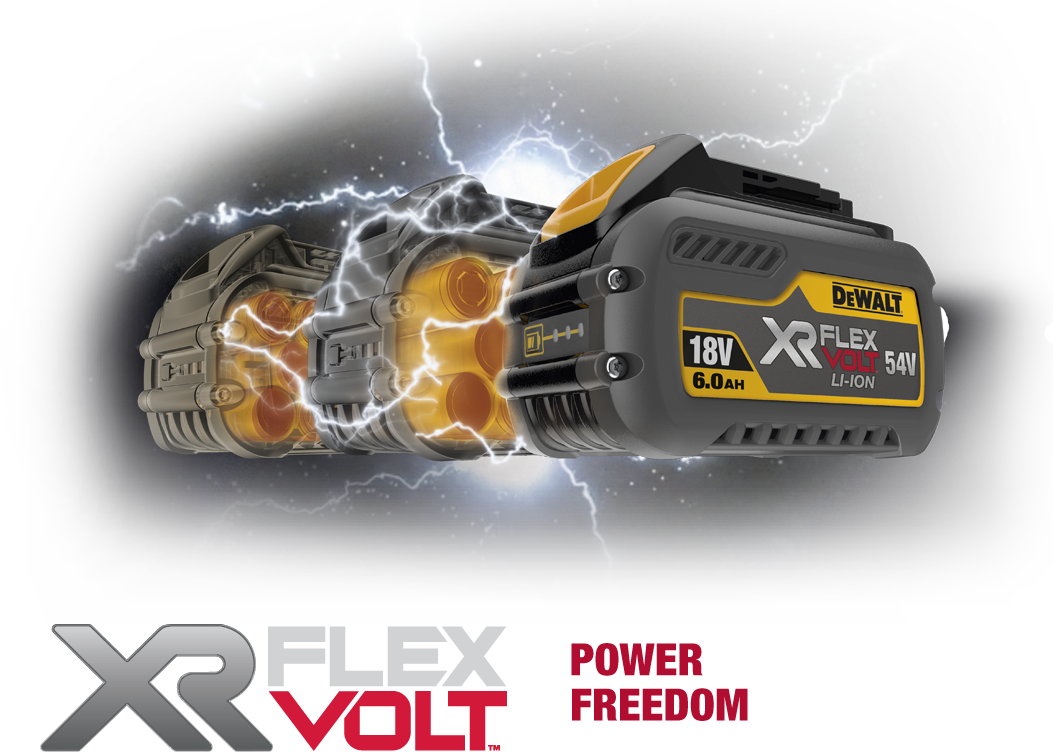 BUY ANY DEWALT XR FLEXVOLT KIT
AND REGISTER AT MYDEWALT
GET A FREE
XR FLEXVOLT BATTERY
What is the DEWALT XR FLEXVOLT?
DEWALT have a long tradition of innovation and always deliver products that combine outstanding performance with fantastic functionality; the XR FLEXVOLT delivers in both of these areas.
The DEWALT FLEXVOLT is a 54 volt battery that has unprecedented levels of power and has the ability to automatically switch from 54 volt to 18 volt, allowing you to use it with all your existing 18V tools with no loss of performance.
Simply put, the XR FLEXVOLT is a game changing battery - for the first time ever you'll be able to run 54V power tools without the need for cords and extensions.
Introducing The Jobsite of The Future
Along with the new XR FLEXVOLT, DEWALT will be launching a range of power tools designed to be used on the jobsite of the future.
DEWALT have a vision for the jobsite of the future:
Imagine a jobsite where trailing power cables and bulky generators are a thing of the past. A jobsite where every trade can work faster, safer and more efficiently than ever before.

DEWALT has created the XR FLEXVOLT range of power tools - enabling construction professionals to use cordless technology in heavy-duty applications that were never before possible.
Find Out More
To find out more about the new DEWALT XR FLEXVOLT range contact your local CEF branch.