Introducing The Heatstore Intelirad
The Smart Radiator
Unique Intelligence
Adaptive Temperature Control
Environment Learning
Eco Start
Delayed Anticipatory Control
Smart Open Window Technology
Instant Energy Waste Reduction
Dynamic Efficiency + Technology
Electronic Thermostat Accuracy _/-0.2°C
Touch Sensitive Control System
With Audio Feedback
Colour Changing LCD Display
Graphic Temperature Indication
FREE 3D AutoCAD
Heating Design Scheme Service
3 Years On-site Warranty
10 Years Aluminium Body

Advanced touch control system
Although sophisticated technology, Intelirad is designed to be user-friendly with busy contemporary lifestyles in mind
Full instructions are provided including a Quick Start Guide for easy set up and operation.
Out All Day
Home All Day
Holidays
(turns your heater back on the day you return)
User Timer
Advanced Audio Feedback
Frost Protection Child Lock
Colour Changing Display
For easy temperature recognition at a quick glance, the Intelirad screen shows one of four distinct colour displays. This can be of benefit to the visually impaired, particularly coupled with the option of audio reinforcement.
Good Thinking
The intelligence to start up only when required.
Traditional Set Timer
Room target temperature 21°C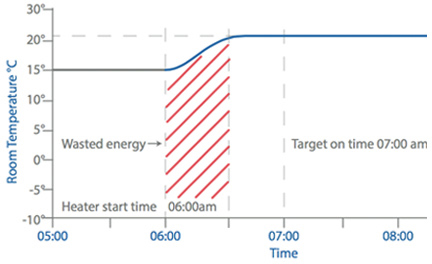 Eco-Start
Room target temperature 21°C
Thinking Inside The Room
InteliSmart Open Window Technology
If an internal window or door is accidentally left open, Intelirad will detect the sudden change in temperature and instantly scale back the output to 50%, rather than continue to provide 100% output.
Once the window or door has been closed, the radiator will return to normal operation equally swiftly. This highly responsive technology ensures the output from the heater is optimised when head is escaping from a room, thereby avoiding wastage and saving the user money.
There's no other radiator that reacts so quickly and efficiently.
Mind Control
Heatstore has developed Dynamic Efficiency + Technology
Put simply, it means as the room temperature nears the desired point, the electronic processor within the heater constantly monitors the power to the elements giving an accuracy of +/-0.2°C. This minimises overshoot and temperature drift, resulting in complete user comfort and total energy efficiency.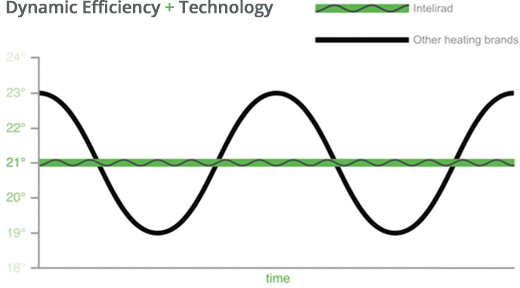 Full Metal Bracket
Plastic filings, as used by other radiators on the market, have a historic vulnerability to continued heating and cooling, resulting in the brackets becoming brittle and even unsafe.
The Intelirad has more durable and reliable metal brackets, designed for the long term, in fact well beyond our 10 year aluminum parts guarantee.
High load bearing, full steel brackets
Easy-install 1 man fit
Card wall templates supplied for all sizes