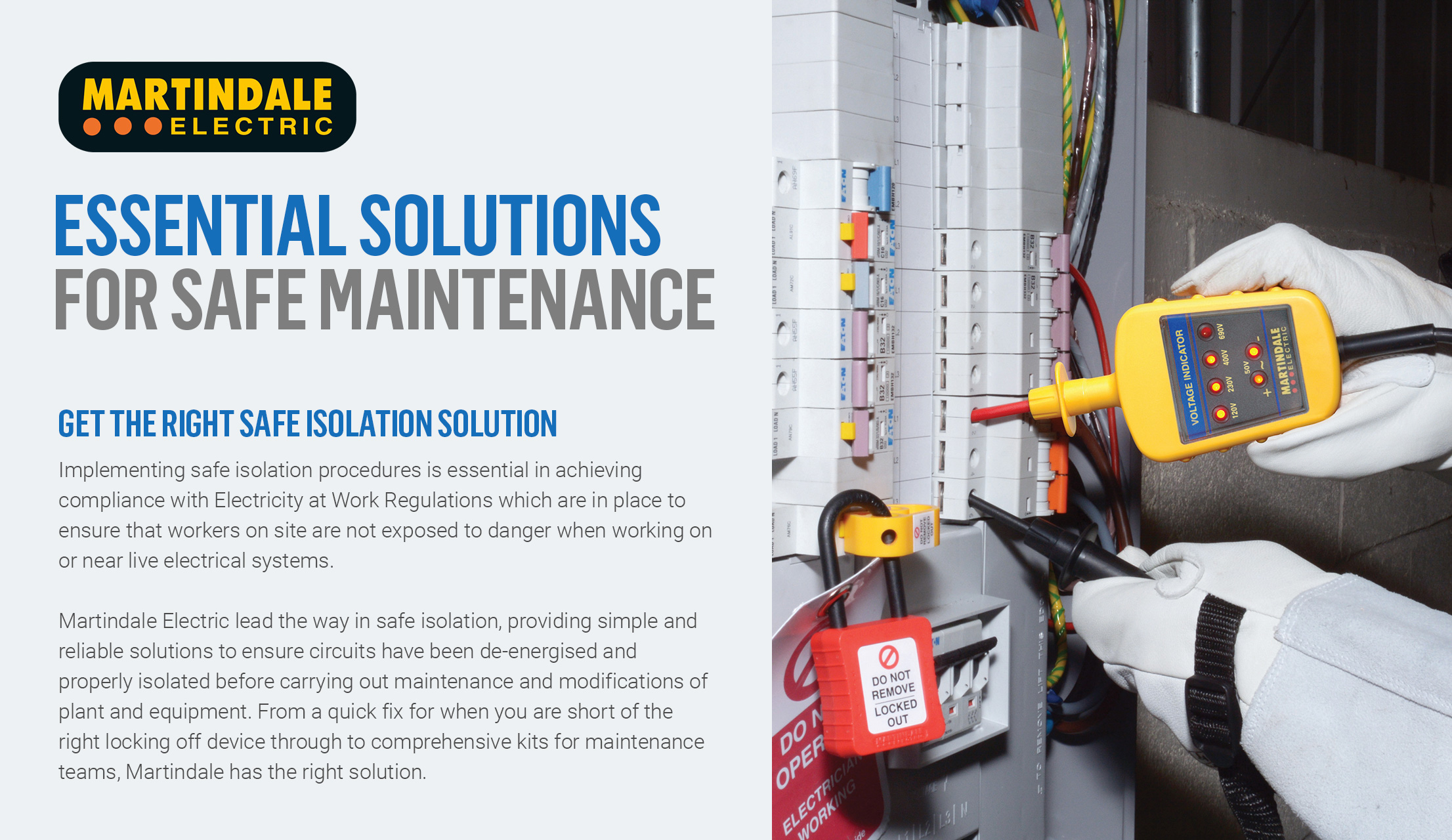 What's Needed for Safe Isolation?
The essential equipment needed to stay safe and achieve compliance with the regulations are:
Locking off devices with unique keys
A clear method of labelling the hazard
A dedicated voltage indicator
A proving unit to verify the voltage indicator
Locking Off Kits
Comprehensive locking off kits are available to ensure the right locking off device is always to hand for the circuit being worked on.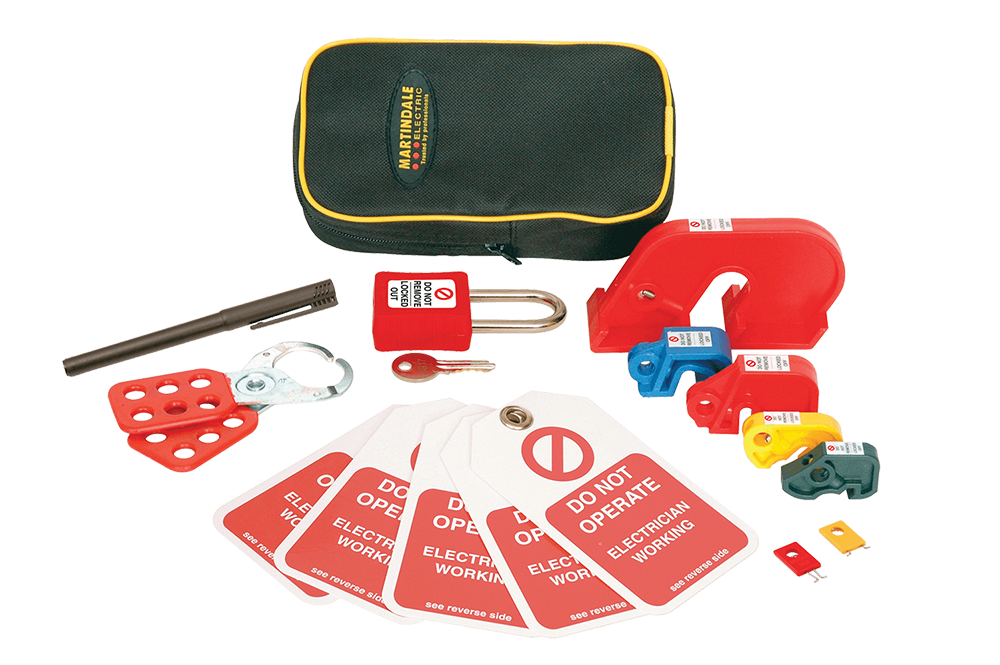 Martindale Lock Out Kit
Part Code: MARLOKKIT1
A basic kit should include the following:
Selection of MCB & Breaker Locks
Hasp for when more than one person is working on a system
Padlock with a Unique Key
Lock Out Tags & Warning Labels
Multi-lock hasps ensure a circuit cannot be re-energised until each operator has finished work and removed their own padlock.
Locking off the circuit correctly is just one part of the procedure. Before carrying out any work on the circuit, you must prove the circuit is dead. Circuits are frequently mislabelled so there is no certainty that the correct circuit is locked off.
VOLTAGE INDICATORS
With a wide range of voltage detectors and indicators available, it's important to understand why some equipment, such as multimeters and non-contact voltage detectors should not be used for this process. Multimeters are not suitable as it's all too easy to select the wrong range. In addition, multimeters rely on battery power to function, so it's possible to make a false "dead" reading on a live circuit if the batteries are flat. While non-contact voltage detectors are frequently used to detect live cables, they cannot reliably be used to prove dead.
The list of suitable voltage indicators includes testers, such as the Martindale VI13800 or VI-15000. Martindale voltage indicators for safe isolation are fully compliant with the latest standards and are designed for safety, with no batteries or switches which could lead to false indication.
The procedure for proving dead is:
Take your voltage indicator and check it against a known source, such as a proving unit
Then test the circuit
Then test the voltage indicator against the known source again to prove the tester has not failed during testing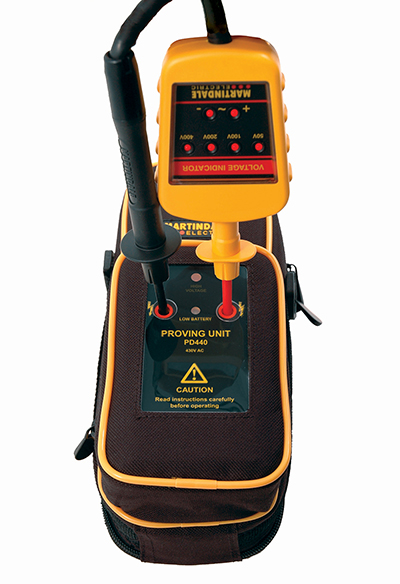 Martindale Voltage Tester and Proving Unit
Part Code: VIPD138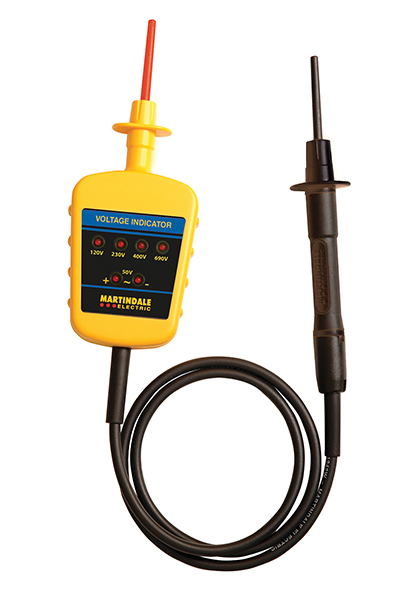 Martindale Voltage Tester
Part Code: MARVI15000
Whilst you can use a known live source to test your voltage indicator, using a dedicated proving unit matched to the voltage indicator is recommended in order to ensure that all LEDs on all ranges are working. In many cases an alternative known live source may not be available on-site and it could be hazardous connecting to it.
All Martindale voltage indicators are available in kits with matching proving units. They are supplied in test & go soft carry cases, saving time on-site and making sure both essential items are always to hand.
ALL IN ONE KITS SIMPLIFY COMPLIANCE AND CHOICE
Martindale have simplified selecting the right tools by offering complete solutions, such as the MARVIPDLOK150 kit. The kits include industry standard voltage indicators, matching proving unit, locking off devices and hazard warning labels. They are widely specified by contractors and maintenance teams are easy to use and ensure compliance with Health & Safety regulations.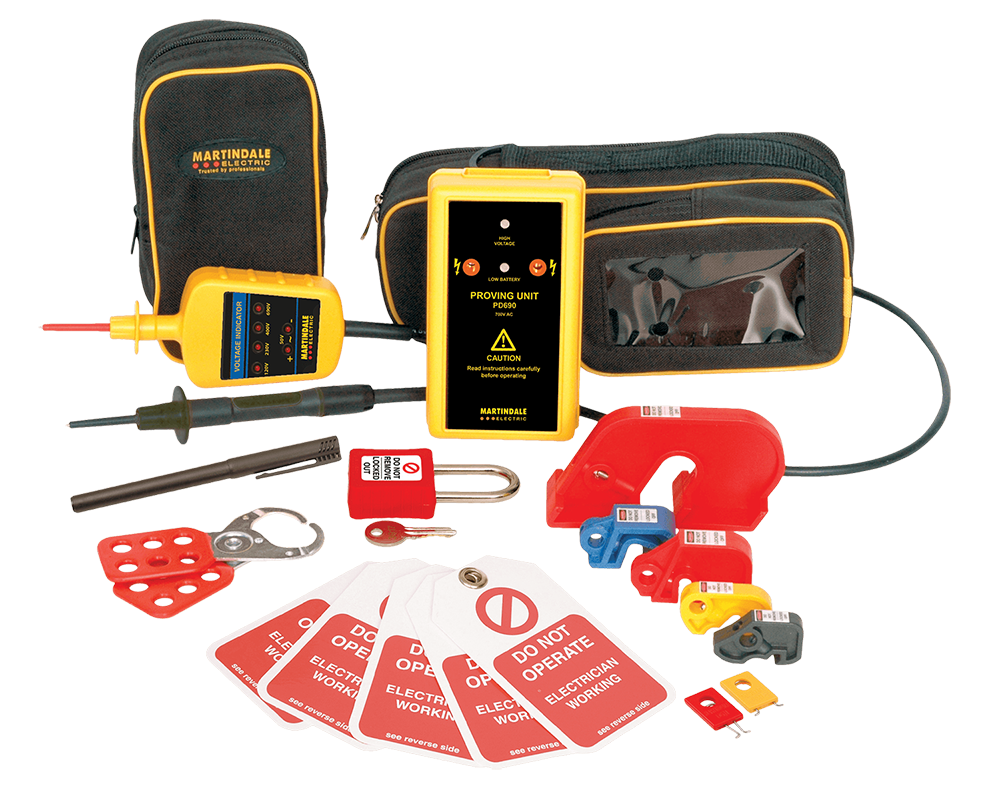 Martindale VIPDLOK150 Voltage Indicator with Proving Device and Lock Out Kit
Part Code: MARVIPDLOK150

Martindale's safety solutions are built on working closely with end users and consistently delivering safety, reliability and ease of use over the last 90 years.
EXPLORE THE MARTINDALE RANGE