CEF Expands to Meet Demand
08/06/2016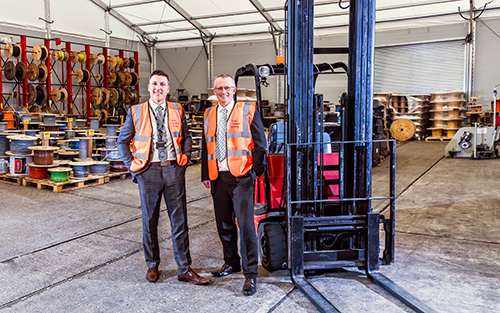 Craig Marks & Nick Savage in the new extension
CEF has satisfied the growing demand for online ordering, with a new 8,000 square foot extension to their customer fulfilment distribution warehouse which supports their award winning best in class website.
Since the launch of cef.co.uk in January 2015, CEF has seen rapid online sales growth and as a result the company quickly reached capacity at the existing 58,000 square foot site. Craig Marks, Divisional Manager for CEF, says: "This is a very new and dynamic market and one which continues to grow quickly. To continue to provide the level of service which our customers expect we realised that expansion was essential."
The warehouse expansion will not only allow CEF to continue to provide the highest levels of customer service, it will also ensure that more products are available on a next day basis for customers ordering up to 8pm. Craig continues: "Having the right width and depth of stock is imperative in our business. This expansion means that we now have 30,000 products available for next day delivery from over 200 suppliers and as a result we are able to provide exactly what our customers need, when they need it."
As well as capacity for greater levels of stock, the extended warehouse incorporates a dedicated area for cable cutting and an expanded packing area. Craig concludes: "We are very excited about the warehouse extension as it will have a huge impact on the service that we are able to provide and we will have a greater degree of flexibility when meeting the needs of our customers."
The success of cef.co.uk was recently recognised at the 2016 Electrical Wholesaler Awards, where CEF picked up 'Best Website' award. Jeremy Saunders, General Manager at CEF, who spearheaded the development of their online service explains, "Digital capability is so important in all businesses these days. Although a substantial part of our customer base will still call into one of our 390 branches, there are a growing number of customers wanting to source and order products online. More and more businesses expect to be able to order online just as they order their own grocery or clothes shopping."
"We see our website as giving customers the choice and flexibility they require and it's a totally integrated solution; customers can check local branches stock before heading in to pick up what they need or order online for next day delivery. Customers simply see it as an extension to the great service our branch network already offers."