Schneider easy9+
The Easy9+ range of consumer units offer stylish, efficient and practical solutions at competitive prices.
The BS7671 Amendment 3 compliant ranges have a sleek, curved profile and crisp white finish to compliment any home.
The stylish, yet practical aesthetics are coupled with practical time saving and feature rich benefits across both ranges.
A new generation of consumer units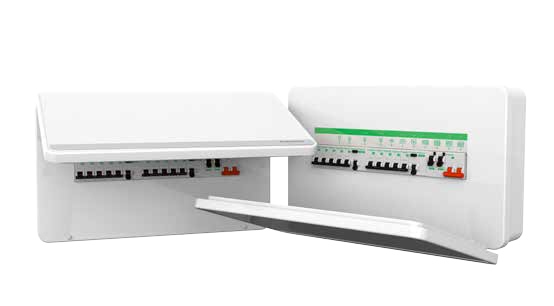 Why Choose The Easy9+
Contemporary design
Crisp white modern design
Stylish finish for any residential environment.

Customisable covers
Bespoke design
Blend in or stand out, change how the front panel looks to suit it's environment.

Easy to read label kits
Visual aids
Instantly understand control points throughout the home.

BS7671 compliant
Full metal enclosure
Prevents any flex or distortion when mounting the unit to any surface.

Fast & easy to install
Easier to install
Improved design to offer cabling space where it is needed most.

Numbered terminals
Ensures correct insertion and termination
Consistent & clear numbering with conductor clearance.

Rigid DIN rail
Safe and strong
The DIN rail provides a solid feel whilst the busbar guard provides peace of mind.

Recessed design
Minimise impact
Flexible enclosure, for a less intrusive look within your living space.

Reversible magnetic door
Simply no down sides
Need the door to open up or down? Central fixing points make this a simple change. Lending itself to modern interiors.
Premium enclosure design
The fully compliant BS7671 Amendment 3 metal enclosure and magnetic door closure provide a consistent design across both the Easy9+ and Resi9+ ranges.
The new look enclosure is cross compatible with the existing range of devices.
The high quality material also prevents any flex or distortion when mounting to uneven surfaces.